2.4GHz Bluetooth Handheld Data Terminal Collector Barcode Scanner For Inventory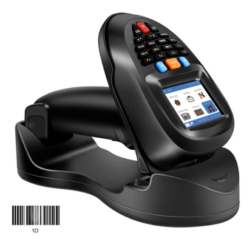 Unit Price

Order Quantity
Unit Price
Delivery period
1 - 9
US $

249.00

/piece
7 day
10 - 50
US $

229.00

/piece
7 day
2.4GHz Bluetooth Handheld Data Terminal Collector Barcode Scanner For Inventory
We have two type for you to choose:
Type 1: 1D only can read 1d barcode
​Type 2: It can read 1D barcode and 2D QR barcode.
1. Read almost all 1Ds: UPC, EAN, Code128, Code93, IT25, Codebar, MSI,etc. Support ISBN and logistics number. Can read blurry or broken barcodes under dim light. Support manually input for the unscannables or changing the quantity. Terminator changeable and prefix/suffix supported. Note:1D laser barcode scanner cannot scan barcodes with spaces.
2. 2.4G Wireless transmission distance up to 200m/656ft in open air, up to 150m/492ft indoor, it depends on obstacles and signal obstruction. With 1400 mAh Battery, it can work 20 hours of continuous scan, or scan for 100,000 times.
3. 16MB memory for offline storage, it can store 100,000 barcodes. You can scan and upload instantly, or store barcodes in the memory and upload later. The charging cradle can also work as a receiver, receive data from the inventory scanner and transmit data to the host. 
4. Compatible with Windows, Linux. Works with Word, Exce. Only work on device with USB port, not for iPad, tablet, smart phone.
Please note: Don't include the battery. Due to air traffic control, the transportation of products containing batteries is restricted. If you need battery, please contact us.
Please send your message to us