USB Reader for Honeywell 7980G 2D Supermarket Convenience POS Store Warehouse Barcode Scanner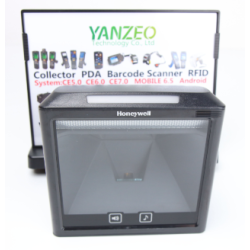 Unit Price

Order Quantity
Unit Price
Delivery period
1 - 10
US $

179.00

/piece
7 day
11 - 50
US $

174.00

/piece
7 day
HONEYWELL Solaris 7980g - barcode scanner - desktop device
Condition: Used, but in good condition
HONEYWELL Solaris 7980g - barcode scanner - desktop device
Condition: Used, but in good condition
Product details
With the new Solaris 7980g vertical scanner from Honeywell, you can process your customers faster at the checkout and carry out mobile marketing campaigns "on the fly" - your customers will be amazed! With its compact, modern design and powerful image capture functions, the 7980g easily fits into existing housings and is therefore ideally suited for hectic checkout operations in specialist shops and grocery stores.
Solaris 7980g Presentation Scanner Features and Benefits
Excellent 1D and 2D scanning performance
A version with a powerful 2D area imaging function is available, which can read digital coupons from smartphone displays and ID cards.
Pleasant light
The soft, white LED lighting is very bright, but does not dazzle.
Grows with your requirements
You can purchase the 7980g as a linear scanner and upgrade it to a full-fledged area imaging 2D scanner according to your growing needs.
Easy installation
The device is easy to install and offers integrated EAS, power supply via USB and a USB port for connecting additional devices.Modern design with ergonomic touch operationThe device can be operated very comfortably with the capacitive touch button and the intuitive LED displays directed towards the user.
Product specifications
To scan2D (matrix & stacked) barcodes supports Aztec Code, Codablock, Code 49, Data Matrix, Han Xin, MaxiCode, Micro QR Code, PDF417, QR CodeYaw reading angle -75 - 75Scanner type 1D / 2DLinear (1D) barcodes supports Codabar, Code 11, Code 128, Code 32, Code 39, Code 93, EAN-13, EAN-8, Intelligent Mail, JAN, MSI, PLANET, POSTNET, Plessey, Telepen, Trioptic, U.P.C.Type Fixed barcode readerLight levels (direct sunlight) 0 - 100000 luxIncline reading angle -65 - 65
Maximum scan area 0 x 190 mm
Weight & dimensions
Weight 539 g
Height 148 mm
Width 152 mm
Depth 85 mm
Operating conditions
Operating temperature range 0 - 40 C
Storage temperature range -20 - 60 C.
Operating humidity 5 - 95%
Energy
Energy source AC
Input frequency 50 - 60 Hz
Energy consumption 400 mA
Power supply output voltage 5 - 5.2 V
Input voltage 100-240 V.
Design
Product color black
RoHS compliant Yes
Certification CE, RoHS
International degree of protection (IP code) IPX5
LED indicators status
Power
Programming functions Yes
Connections and interfaces
Number of USB 2.0 ports 1
USB version 2.0
Standard interfaces Keyboard wedge, RS-232, USB
Transmission technology Wired
Please send your message to us