PDA For Honeywell CK65-L0N-CSC010F Mobile Handheld Computer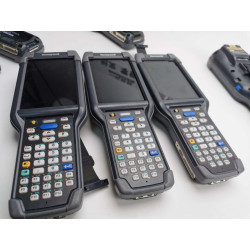 Unit Price

Order Quantity
Unit Price
Delivery period
1 - 10
US $

600.00

/piece
7 day
11 - 50
US $

590.00

/piece
7 day
For Honeywell CK65 CK65-L0N-CSC010F CK65 NUMERIC KEYPAD 1 GHZ AREA IMAGER 2D WLAN 2.2GHZ QUALCOMM 64-BIT SNAPDRAGON OCTA-CORE ANDROID 8.0 OREO, 2GB/4GB RAM, 32 GB FLASH,10.16 CM (4 IN) 480 X 800 BRIGHT COLOR LCD,13MP CAMERA
The price of other Part Nos. (CK65-L0N-CMN010F CK65-L0N-AMN010F CK65-L0N-BMC010F) is different. Contact us if you need.
Our company has 20 YEARS combined experience in mobile computing, barcode and point of sale equipment. We specialize in discounted large lots of barcode and mobile computer equipment. Feel free to contact us with any questions . If you are interested in another model, please contact us freely at any time.

Contact us for technical support

We would reply you within 24 hours as soon as possible.

Note:

Additional products and software may be required.

All of our parts are tested when we stock, we will test them again when we ship.

All products have been checked and packed in good condition before shipped out.

We have 3000pcs SE-955 in stock,our company have many stock for SE950 SE960 SE965 SE4500 Laser Scan Engine Module and Motorola Symbol MC3090 MC3070 MC3190 MC3000 Handheld Barcode Inventory Scanner,If you are interested, Please let us know.

Looking for another product? We have other units and other configurations available, please contact us if you need a specific model number

We can get any model unit, please feel free to contact us.
Note:Excluding the battery!!! If you need to buy the battery,please send the messages.
Please send your message to us